From trying new recipes or catching up with friends over a cup of coffee to cooking meals that nourish the body and soul and gathering around the kitchen table or bar for meaningful conversations with family and friends, the kitchen is undoubtedly one of the most important rooms in your entire house. So, if you're looking for a simple way to add instant charm and personality to your home, the kitchen is a great place to start. Here are 10 updates that will give your kitchen a fresh facelift, just in time for the New Year.
Pick a rug
If you want to change the look of your floors without paying to replace them, you can't go wrong with a rug. Available in an endless array of colors, shapes, and sizes, rugs are an excellent way to add some pizzazz to your kitchen. Outdoor rugs are a great choice for kitchens because they are sturdy, designed for lots of foot traffic, and easy to clean. Don't be afraid to experiment with various styles and sizes until you find one that's perfect for your space.
Once you've landed on your top choice, put a non-slip pad under the rug to keep your current flooring intact. The best part: You can easily switch out the rug with the seasons (or whenever you feel like a change of pace) without breaking the bank.
Repaint your cabinets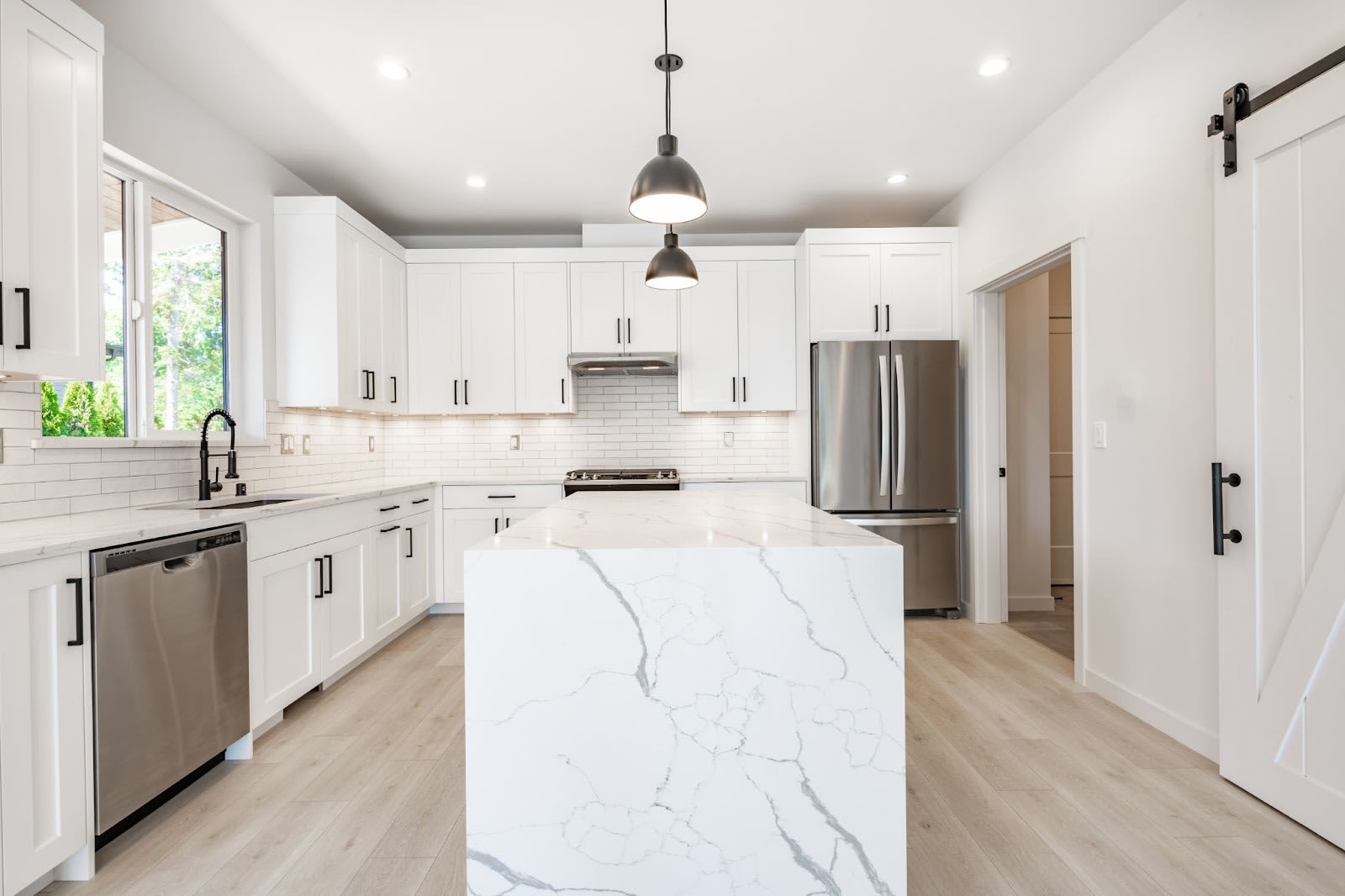 Looking for a way to make a bold impact without breaking the bank? Start by giving your cabinets a fresh coat of paint! Repainting your kitchen cabinets is a cost-effective way to modernize a space that may be in need of a little TLC. If you want to make the kitchen look bigger, opt for white paint. If you're looking to give it a sleek new look, consider black. If you want to add pops of color, consider a fun shade of blue or green.
Once you've found the perfect paint, you can get to work. Simply remove the hardware (this includes doors, drawers, and knobs), clean and sand all of the surfaces, and then give everything two to three coats of paint. Though this project will take a bit of time, you're sure to be happy with the end result!
Add open shelves
Gone are the days of closed cabinets and hidden baking supplies. Many of today's modern kitchens have embraced a more open aesthetic complete with open shelves. Follow suit by mounting open shelves (also known as hanging or floating shelves) to your wall. From reclaimed wood planks to marble slabs, open shelves will help your kitchen feel bigger and allow you to display cute canisters, pots, and pans for all to see. You can even put plants, spice jars, and other knick-knacks on the shelves to showcase more of your personality.
Change the countertops
One of the clearest ways to update the look of your kitchen is to swap out the countertops. Today's options are endless…and they are more affordable and stylish than ever before. From laminate to granite to marble and quartz, replacing the countertops can liven up any kitchen. With a variety of finishes and materials to choose from, you can easily find something that matches your style within your desired price point.
Once you've replaced the countertops, you can add even more variety by swapping out mismatched canisters for matching glass or ceramic replacements. You can also get your greens in by purchasing some potted herbs (think mint, basil, and rosemary) to line the countertops with. Herbs won't just add some visual variety to your kitchen…they will also add some much-needed flavor to your future meals!
Replace the lighting
Available in a variety of geometric shapes and finishes, lights are a fun way to take your kitchen to a whole new level—and the right choices can take your space from meh to wow in a matter of seconds. Start by choosing new overhead lighting. If you have an island or peninsula, you may want to hang a pendant that will add some much-needed ambient lighting (it also makes a great statement piece and conversation starter).
If you have a galley-style kitchen, you may want to opt for a series of semi-flush mount lights. Regardless of what you choose for the main overhead lighting, remember that the supporting lights are just as important. From adding a light near your sink to hanging a chandelier over your eat-in dining nook, you can easily elevate the entire look of your kitchen with a few choice pieces. If you have young kids, you can also add night lights around the edge of your kitchen island or bar so they can safely get a drink in the middle of the night if needed.
Replace the hardware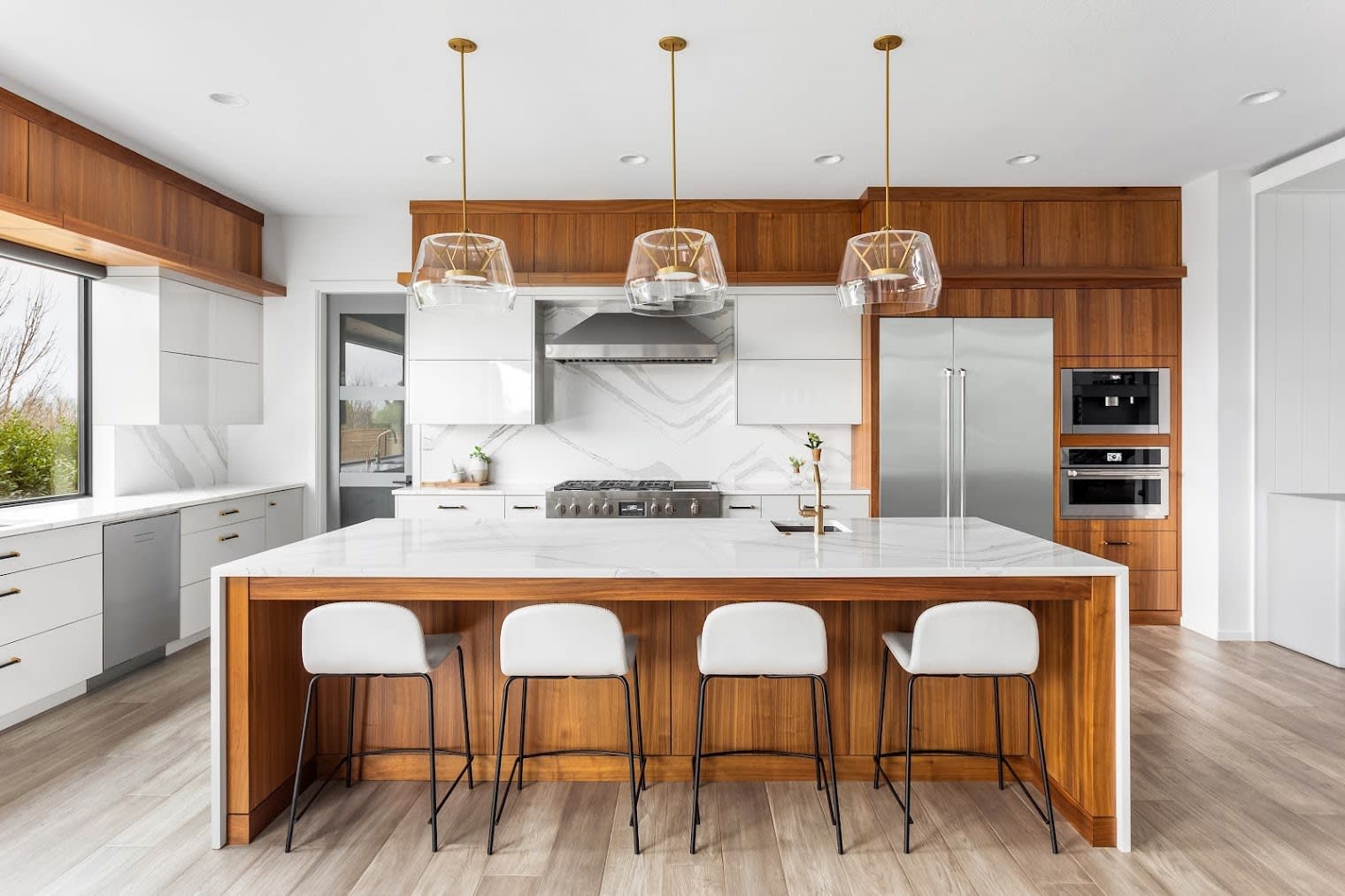 In many kitchens, the sink serves as a focal point. So why not bring your distinct design persona to life by choosing new spouts and faucets? From matte black to copper to stainless steel finishes, replacing your kitchen faucets can subtly update the entire look and feel of the space. While nickel and chrome will always be classics, many of today's more modern kitchens are outfitted with brass and bronze. If you want to keep things consistent, you can replace the rest of the hardware on your cabinets so that everything matches. Don't worry if you can't update everything at once—mixed-metal is en vogue now, so you can mix and match various pieces for a stylish end result.
Break out the wallpaper
Wallpaper isn't just for your grandma's house anymore. In recent years, this tried-and-true staple has been making a comeback with designers across the U.S. Get in on the fun by choosing a playful print. From flowers to lemons to geometric spaces, the wallpaper possibilities are endless…and any choice can add unexpected yet spot-on sophistication.
Thanks to the resurgence of wallpaper nationwide (and a slew of new companies focusing entirely on the product), there's no shortage to choose from. The best wallpapers for a kitchen are vinyl, novamura, and washable wallpapers. Many of today's options are also designed for the kitchen so that they are water-resistant and easily cleaned if needed.
Not quite ready to go all-in with wallpaper? Start small by painting an accent wall with a fun new shade of paint.
Add a backsplash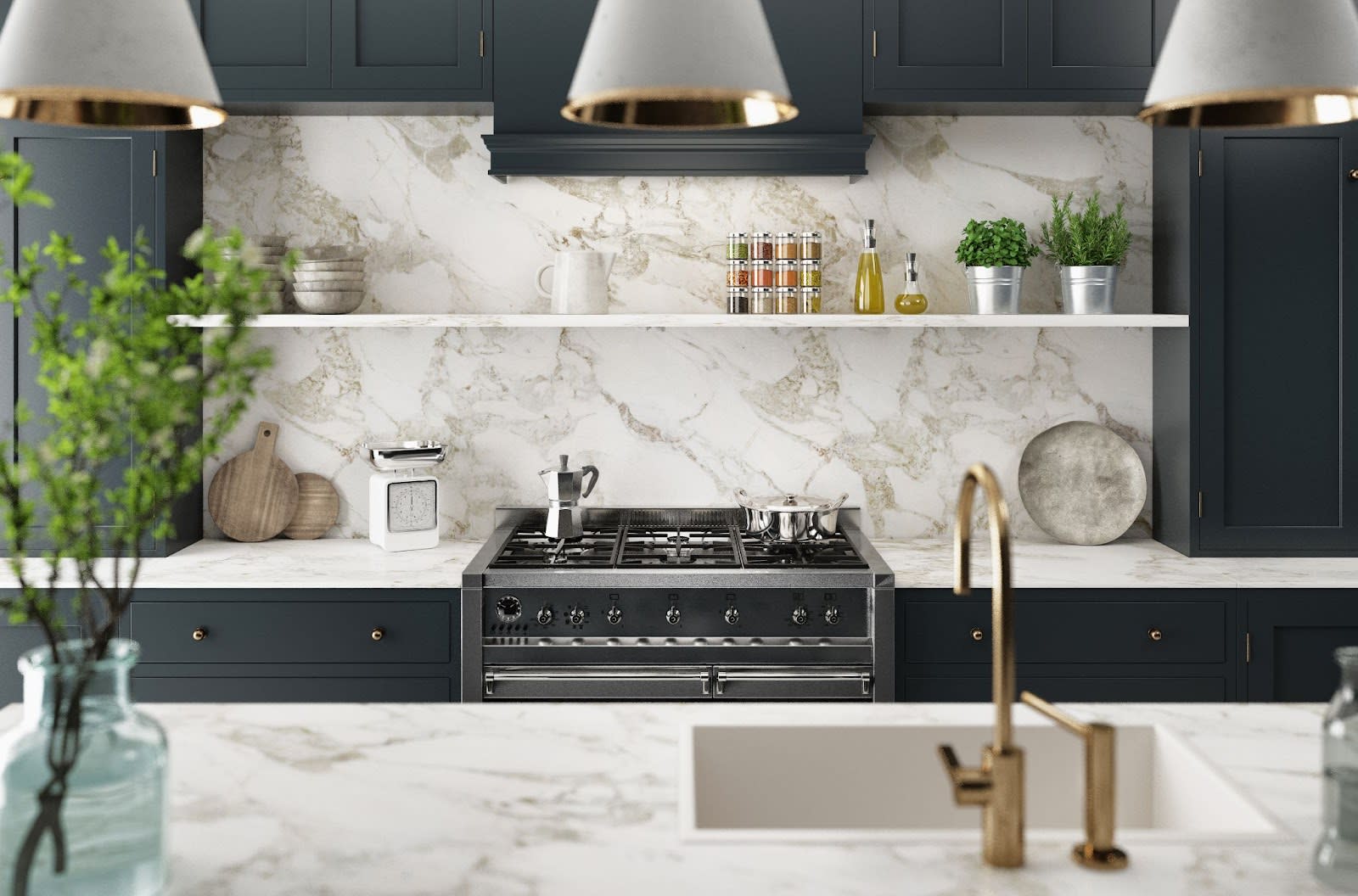 Make a splash—literally—by bringing a new backsplash to life. Though ceramic backsplashes remain the staple, you can choose from a variety of materials ranging from intricate mosaics to colorful glass or metal tiles. You can also choose materials in a variety of sizes, shapes, and colors to breathe new life into your kitchen.
If you're up for a challenge, try taking on the DIY project yourself…but you can also hire a professional to do the job for you. Looking for something that's a little less work? You can even choose from peel-and-stick backsplash materials.
Create a coffee bar
Looking for a way to cut back on Starbucks runs in 2022? You may want to create an in-home coffee bar! To bring all of your espresso dreams to life, start by identifying an empty corner or counter near a plug-in so that you can easily plug in your pot to make coffee in the morning.
You can then fashion a mini kitchen coffee bar by adding the coffee machine, mugs, filters, and coffee beans to a basket or box on the countertop. If you have a little extra room in your kitchen, you can even add a mini-fridge or shelves where you can store some extra ingredients and coffee supplies. Don't forget to purchase a cute little coffee sign to tie all of those pieces together!
Make a bar
If you're more of a cosmopolitan than a coffee person, you can make an old-fashioned bar instead. Start by choosing a bar cart that matches the look and feel of your kitchen (from rustic wood ensembles to chic brass-and-gold options), and top it with some of your favorite alcoholic drinks and mixers. (Once you make the drinks, don't forget to garnish them with some of the aforementioned mint or rosemary for a beautiful finale)!
You can also purchase a chalkboard where you can write the drinks of the day, or add some potted plants for a bit of variety. If you have a built-in bar in the kitchen, you can place the bar cart nearby and search for some new bar stools that will tie in the look.
From small updates to big changes, these 10 tips will help you reimagine a kitchen that truly suits your style. So take some time to think through what makes the most sense for your space…and then get to work bringing your vision to life!
If you're interested in exploring Moraga real estate, contact Michael Robertson today. Whether you're looking for a short-term rental or a forever home, Michael can walk you through the process from start to finish and help you find a place that's right for you.