Lamorinda, named for the three cities in the area – Moraga, Lafayette & Orinda – is home to several great hiking trails to explore. No matter which city you choose to live in, there will be great views available to you via a hike.
Check out the following trails for the best views near Moraga & Lafayette.
Briones Regional Park
Credit: Walkabout California
Located in Lafayette, California, Briones Regional Park is a beautiful hiking destination. This park encompasses over 6,000 acres, which are home to many species of birds, animals, and wildflowers. An ideal place for hiking, Briones Regional Park can be accessed from five points and offers trails that lead to gorgeous panoramic views of the rolling hills and grassland.
Oursan Trail
Following the north and west shores of the Briones Reservoir, the Oursan Trail is a scenic trail located in Orinda. From start to finish, this trail is 10.5 miles long and moderately difficult. Like many of the trails and parks operated by EBMUD, a trail permit is required to hike here, but the stunning views of the reservoir make up for it. If you hike this trail to its finish, you will follow the northern shore east around the Fault Creek drainage and over the reservoir's dam, eventually reaching the Bear Creek Trail.
Bear Creek Trail
A great option for a less-trafficked route leading out of the Bear Creek staging area, the Bear Creek Trail is a single-track trail in Briones. Running along the creek from which it gets its name, this mile-long trail offers beautiful creek views within a shaded forest environment. For a quick and relaxing hike with great views, this is one great option.
Lafayette Reservoir Recreation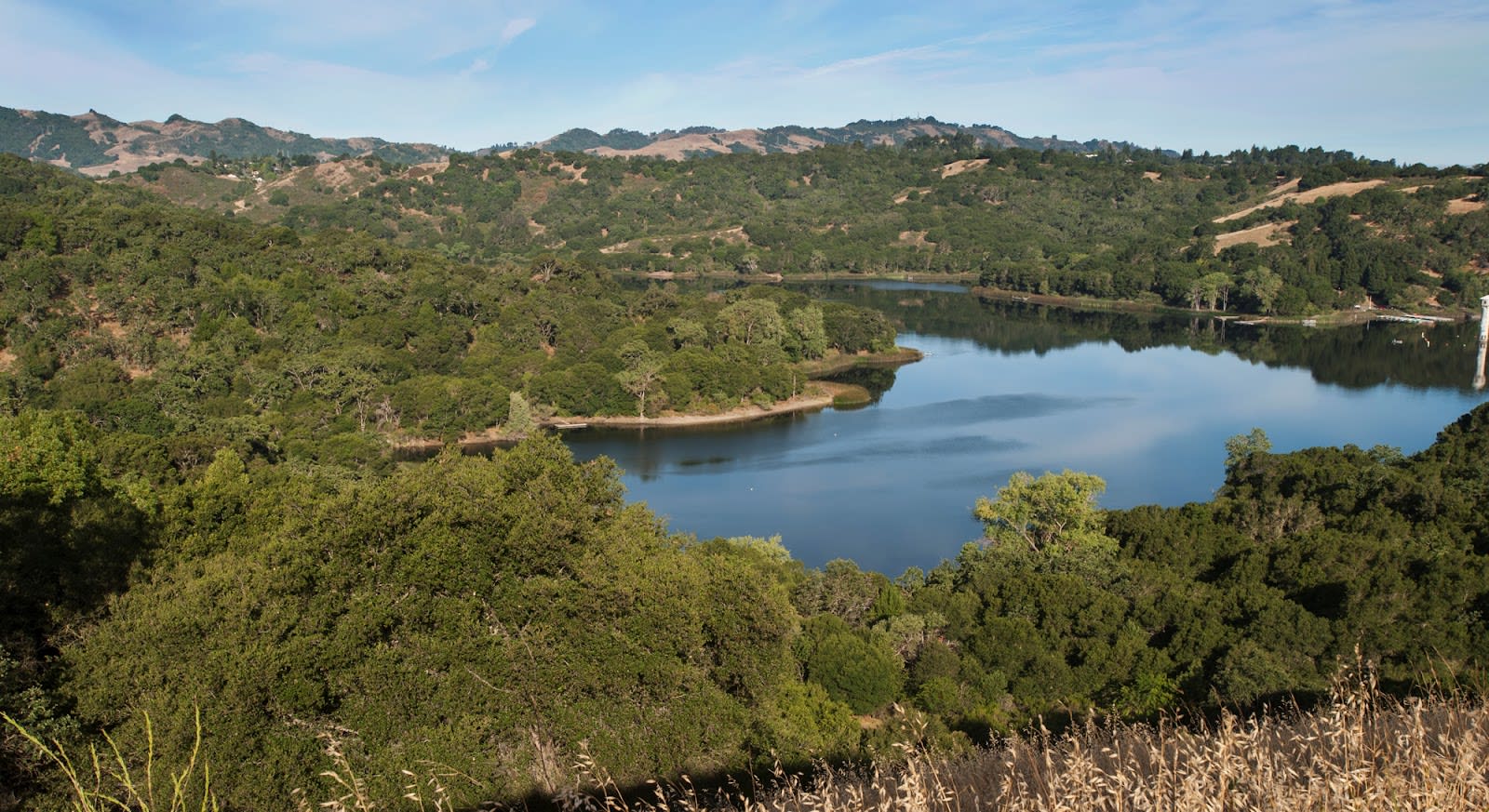 Photo courtesy of Lafayette Reservoir Recreation's website
Another great option in Lafayette is Lafayette Reservoir Recreation. This location has two main trails that you can choose to follow: the paved Lakeside Nature Trail, which is 2.7 miles long, and the unpaved Rim Trail, which runs 4.7 miles.
That being said, Lafayette Reservoir Recreation has 928 acres of open space that are perfect for hiking, photography, wildlife viewing, and stunning views of the area and reservoir, such as the one pictured above. If you're looking for a great place to go with your dog, this park and its trails are dog-friendly, though your furry friend should remain leashed.
Redwood Trail
Located in Moraga, the Redwood Trail clocks in at 3.1 miles and requires a permit to access. Taking close to an hour to hike, this trail is moderately difficult and allows access to the redwood trees from Moraga. More breathtaking for those who appreciate the grandiosity of the redwood trees, this trail crosses two streams and takes you directly to Redwood Park.
Inspiration Trail
Located in Orinda, the 8.5-mile Inspiration Trail loop is moderately trafficked and is perfect for a variety of activities, including hiking and nature trips. One of the key features of this trail is a lake, which you can get some spectacular views of in the morning as pink, blue, and gold mix in the sky and are reflected in the water of the lake.
Kings Canyon Loop Trail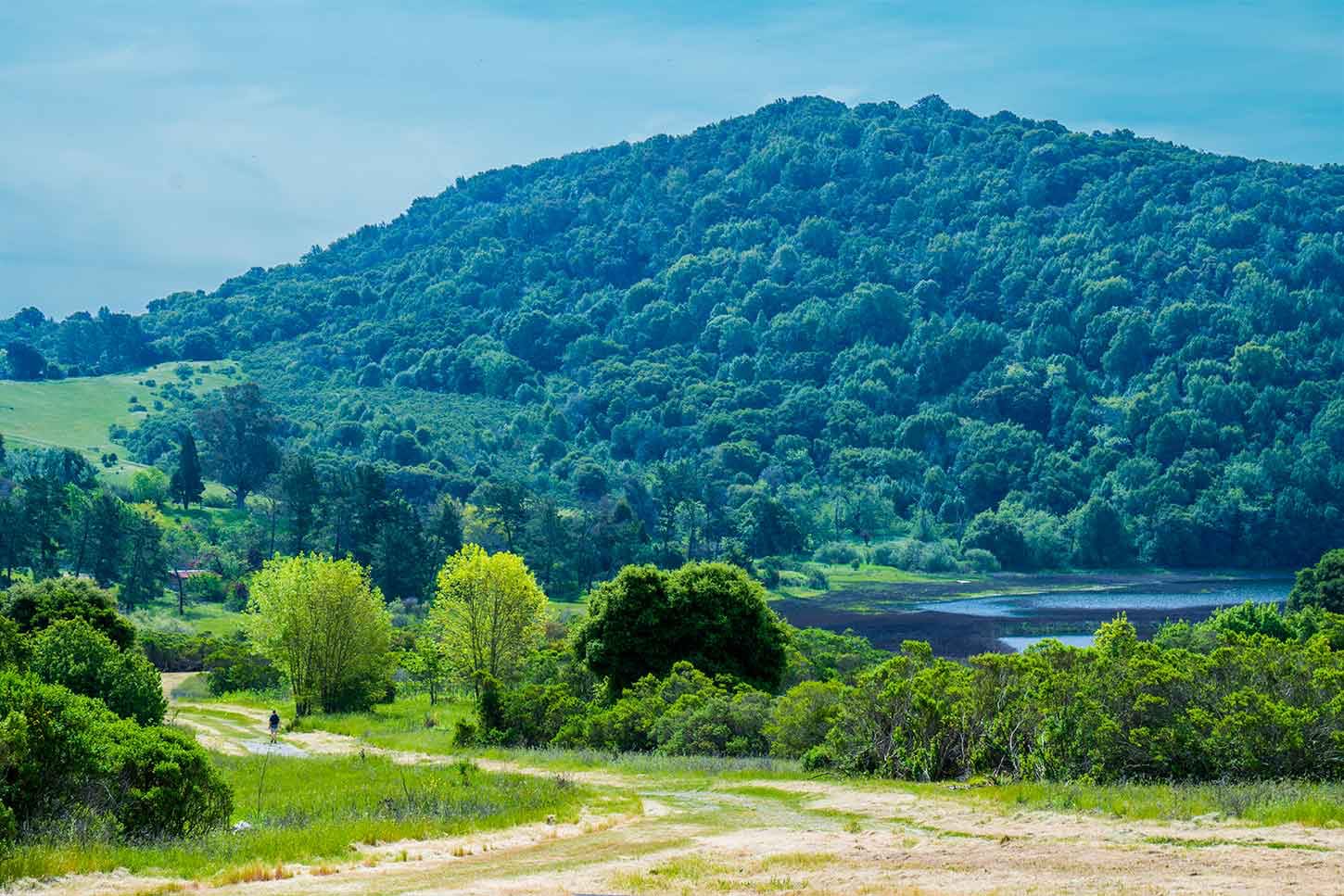 Photo courtesy of redwoodhikes.com
Kings Canyon Loop Trail starts from the Valle Vista Staging Area and runs in a 6.7-mile loop, a majority of which runs close to the Upper San Leandro Reservoir. The best scenery can be found in the beginning part of this trail, where there are views of woodlands, open fields, and intermittent views of the sparkling reservoir waters. As one of the most popular trails in the EBMUD system, this trail allows leashed dogs to accompany you on your journey.
Lake Chabot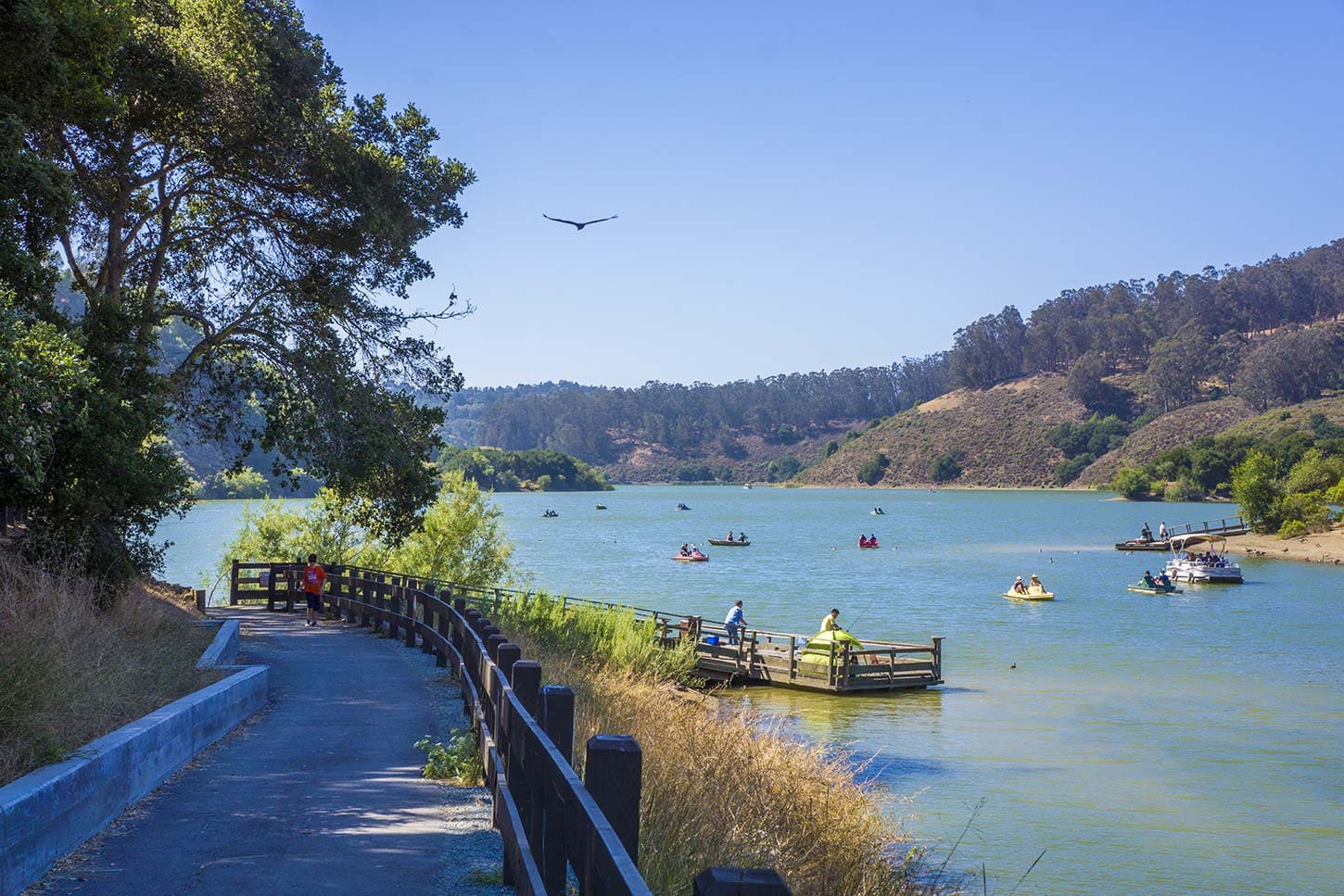 Photo courtesy of redwoodhikes.com
A short half-hour drive from the Lamorinda area takes you to the Anthony Chabot Regional Park, which has several trails to explore alongside a wealth of other activities. Trails run the length of the park, offering plenty of opportunities for beautiful sights.
The mid-sized trail of the three main ventures you can take here is 9.7 miles. A mostly paved trail that runs along the lakeshore, Lake Chabot's namesake trail is one of the most varied and popular trails on this list. Starting in the busier end near Lake Chabot, this trail eventually runs through a quieter wooded area.
Whether you are an avid hiker or an amateur looking for the best views in the area, there are incredible hikes to take here. Each day brings new views, so there are no limits to the beauty of these hikes.
If you want to take advantage of the great hiking in the area and would like to call Moraga or Lafayette home, consider working with Michael Roberston. With his extensive experience and knowledge of Moraga and Lafayette real estate and luxury homes in the surrounding areas, Michael will be able to find you a property that suits your needs. No matter which step of the process you're in, Michael will be there to help you find your dream home. Contact Michael W. Robertson today.