Throughout the year, the eastern shore of San Francisco Bay is sunnier (and a few degrees warmer) than the city itself. East Bay locals have a long list of water-related ways to catch a break from the summer heat, but the area's perfect climate makes waterfront activities enjoyable year-round.


Credit: Destination Isolation
Robert W. Crown Memorial State Beach
East Bay locals love Robert W. Crown Memorial State Beach. People flock to the beach to swim, windsurf, fish, or simply soak up the hottest months of NorCal sunshine (August and September). The park features 2.5 miles of beach, bordered by lawns, picnic grounds, and a bicycle trail. The water is usually warm, and swimming is permitted year-round—though no lifeguards are on duty. Rental kayaks, inflatable rafts, sailboards, and various lessons are available on summer weekends. Be sure to visit the beach in June to watch or compete in the sandcastle and sand sculpture contest. The competition is open to all ages and attracts hundreds of participants and spectators each year.

The visitor center at Robert W. Crown Memorial State Beach hosts an aquarium highlighting the flora and fauna of the San Francisco Bay Area, as well as fascinating exhibits and educational programming. Head to the east end of the park to view aquatic birds at the Elsie Roemer Bird Sanctuary, or north to the marine reserve, Crab Cove. Picnic tables, barbecue pits, and lush lawn space round out this beautiful East Bay beach experience.
Encinal Beach
The Encinal Beach and boat launch provides access to San Francisco Bay from a sandy beach and adjacent boat ramp. The site has a large free parking lot, restrooms, walking trails, and a boat storage area utilized by several clubs and outfitters. The Alameda Community Sailing Center, O'Kalani Outrigger Canoe Club, and Stacked Adventure collaborate with the Alameda Recreation and Parks Department to provide non-motorized watercraft programs to youth and families. While boating or kayaking, you can view seals sunbathing less than half a mile from the beach, where a man-made platform provides space for a harbor seal "haul-out". Visitors are asked to keep at least 300 feet from the platform to ensure that this population of harbor seals remains undisturbed.

With water sports, beach games, and lots of local marine life to see, Encinal is a must-visit for East Bay beachgoers.
Lafayette Reservoir
The Lafayette Recreation Area is a year-round day-use area for hiking, jogging, picnicking, fishing, and boating. The Lafayette Reservoir is filled with trout during fall, winter, and spring, and catfish are available to catch during summer. A daily fishing access permit is required, and other restrictions may apply based on equipment, so check the website before throwing out a line.

Rowboats and pedal boats can be rented on a first-come/first-serve basis from 8:00 a.m. to 3:00 p.m. daily. Dogs are welcome on leash throughout the park but are not allowed to swim in the reservoir. In addition to boating and fishing, visitors can bike on Tuesdays and Thursdays from noon until closing. There are two main hiking trails to explore at the reservoir, as well as 928 acres of open, public space with great views. If you're enjoying the park with kids, hit the water and enjoy the playground near the east lawn of the Lafayette Reservoir.
KGB Kiteboarding & Watersports
When you need to stock up on wetsuits, surf, and kiteboarding gear for your next day on the water—or you'd like to take a lesson—head to KGB Kiteboarding & Watersports.

KGB's kiteboarding courses vary in objective, but all will get you on the water of the East Bay. The "Learn to Fly" experience features 10 hours of kiteboarding lessons fit for novices, while "Water Sessions" are designed for those with a basic grasp of flying four or five-line power kites. The courses consist of afternoons or evenings spent practicing water starting, or riding a surfboard. Whichever course you choose, you'll be a more confident kiteboarder or paddleboarder by the end.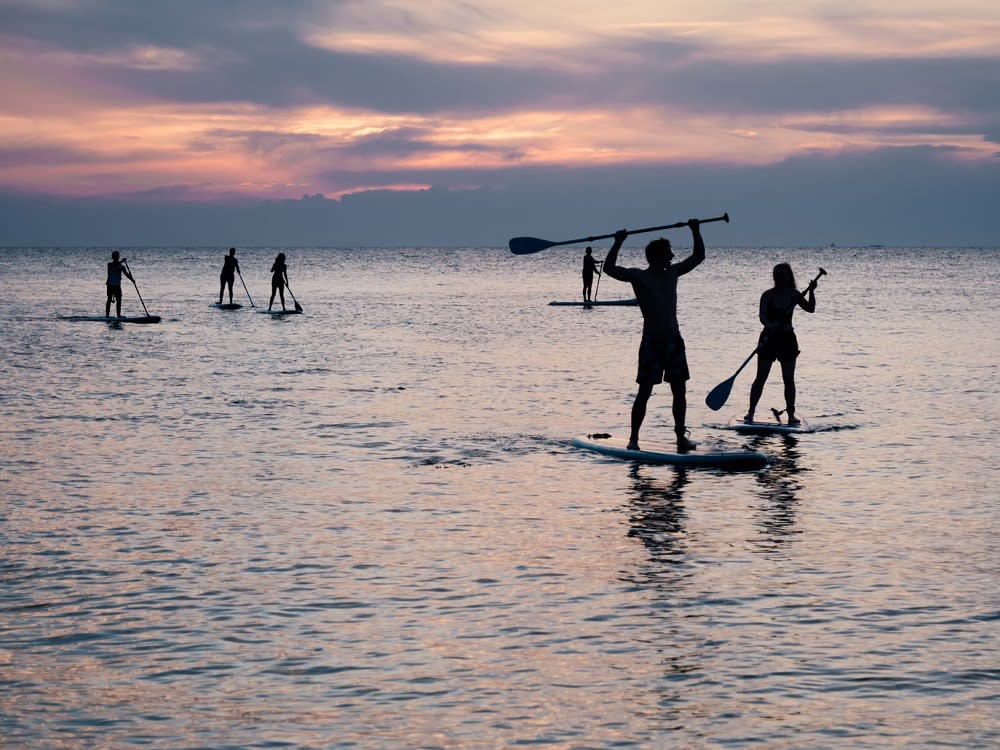 California Canoe & Kayak
Apparel, paddleboards, kayaks, and classes of all kinds are available at California Canoe & Kayak. The company provides private lessons for paddleboarding, with kayaking and whitewater kayak classes capped at six students. If you've always wanted to learn to kayak but simply don't know where to start, take the Kayak Basics course. Students are provided with all the necessary equipment before learning about different types of kayaks, including sea and touring kayaks, recreational kayaks, and sit-on-tops. The class focuses on flat water skills and safety. Whitewater Kayak Classes are meant for everyone, from fresh beginners to seasoned paddlers. Expert instructors teach novices paddling fundamentals and how to maneuver, while advanced students learn in-depth techniques to more fully enjoy their time on the water.

Stand-up paddleboards (SUP) have become incredibly popular in recent years, and there's no question as to why. SUPing is fun, easy, and is a great way to get out on the water. The SUP: Aloha QuickStart class is a three-hour session in the sheltered water of the Oakland Estuary and is a great class for beginners that will get you gliding on the water in no time.
Pleasant Hill Aquatic Park & Sprayground
Host your next pool party at the Pleasant Hill Aquatic Park. Get some cardio in by swimming laps in the dive pool, which ranges from 3.5-10.5 feet in depth and features six lanes and two diving boards. The 3.5-4 feet deep training pool is perfect for children to play some Marco/Polo. Bring coolers packed with burgers and dogs to grill on the barbecues and share with friends in the two picnic areas.

Pleasant Hill Aquatic Park is available for private pool parties from April through October, and picnic rentals are available during public swimming hours on Memorial Day through Labor Day. The park also offers a number of aquatic programs, swimming lessons, swim clinics, water aerobics, water walking, and more during the summer months. Watch out for special seasonal events, including the Underwater Egg Hunt, Pumpkin Splash, and more. Check out Pleasant Hill Aquatic Park for your next sunny family gathering.
Aqua Adventure Waterpark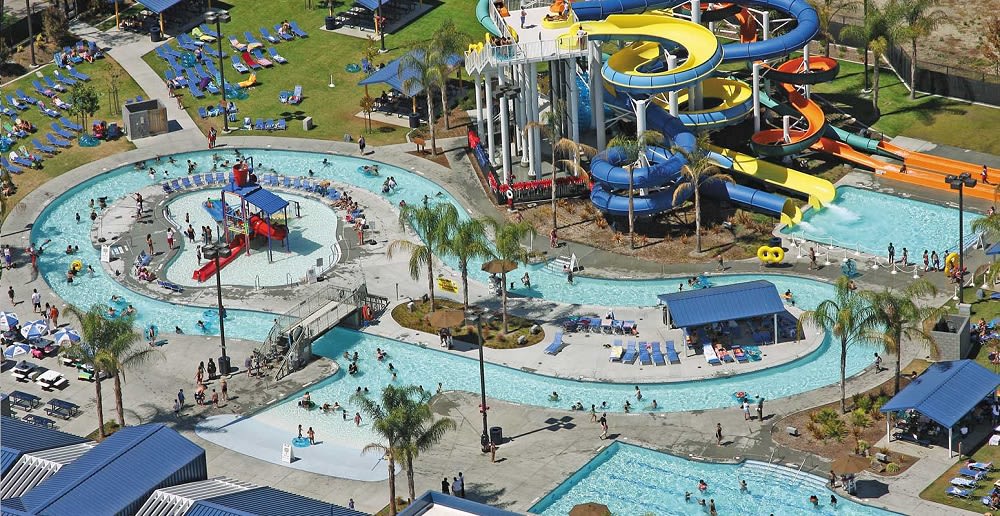 Credit: Arch Pac Aquatics

Visit Aqua Adventure Waterpark for a fun-filled day of water-related activities suitable for the entire family. The park is open seasonally, and will re-open in the spring of 2022. The waterpark has several attractions for kids and adults looking to cool off. For those looking to lay back and relax on a tube head to the Round About River to let the gentle current carry you. The Oasis Pool is great for the whole family to float and swim, and adults can sit back and watch their little ones play. The Lil Squirts splash pad and Bucket Bay are perfect for toddlers' first introduction to water, featuring play structures, slides, interactive fountains, and showers. The Fortress of Fun is a four-story tower that provides body slides and tube slides for daring aquatic adventurers.
Looking for East Bay Area real estate?
When you're ready to relocate to the East Bay, or to upgrade to a Berkley or Moraga luxury home, contact Michael W. Robertson. Whether you're looking for a dream home, an investment property, or a way to escape San Francisco's crowded real estate market, Michael's expertise, professionalism, and customer service will be with you every step of the way.