Staging is the curated furnishing and preparation of a home for sale, intended to help a listing appeal to the greatest number of qualified buyers. Proper staging requires you to rethink your space to create an inviting setting for potential buyers, both inside and outside the home. The objective of staging is to showcase the best features of your property.

Only 20 or so years ago, it was perfectly acceptable in Berkeley to do a basic home cleaning and hide the litter box before putting up the 'for sale' sign. Today's San Francisco Bay real estate market is extremely competitive, and more home sellers in the East Bay and throughout the US are using home staging services to boost their listings. Staging gives sellers a better chance of meeting the expectations of their potential buyers and helps homes sell swiftly—and for more money.

In the National Association of Realtors 2019 Profile of Home Staging report, there's a clear and concise case for how home staging benefits both buyers and sellers. The report is quite extensive, so let's focus on specific statistics about home staging and its role in efficient sales.
Buyers know what they want in a home. Findings show that 74% of real estate agent respondents to the NAR survey on home staging said buyers know what they look for in an ideal home before beginning their search. Staging is an easy way for buyers to recognize if a property meets their expectations or not. Among respondents, 40% said staging affected most buyers' view of a house (versus just 6% who said it made no impact.)


Staging is all about possibilities—not the present. Decorating and living in a home is inherently personal, and everyone has different tastes and preferences. When staging, the home's decor has to appeal to potential buyers, not sellers. According to 83% of buyers' agents, home staging makes it easier for buyers to visualize the house as a future home.


Staging focuses on essential spaces. When it comes to home staging, not all rooms in a house are equally important. While 47% of buyers' agents claim that a staged living room is important to their client, only 19% say the same for bathrooms and 8% for guest bedrooms. This is excellent news for sellers, who may have limited resources to procure a full staging.


Staging decreases the amount of time a property is on the market. The longer a property sits on the market, the harder it is to sell. Home staging helps avoid this problem. The NAR findings show that 28% of the seller's agents saw a slight decrease in days on the market, while 25% reported a substantial decrease.


Staging increases home value. One-quarter of buyers' agents told the NAR that staging increased the offer price by 1% to 5% compared to homes that weren't staged. Additionally, 0% of sellers' agents and only 1% of buyers' agents said that staging hurt the offering price. All of these stats allude to the suggestion that staging your home is worth the time, effort, and cost.

Home staging cost
Before delving into how you can begin sprucing up your home while also improving your return on investment (ROI), consider the associated costs of staging your home. According to the 2019 NAR report, the median price for home staging is $400, but it may also cost several thousand dollars. Some realtors pay for staging themselves since it can have a substantial payoff in the long run.

Your budget and whether you'll use a professional will determine how costly your staging process will be. If you're staging your home with furniture and artwork from a staging company, the longer your property is on the market, the higher the staging costs. For the sake of price and a fast sale, it's crucial to stage your home early—and effectively. Focusing on the most important rooms will save you a lot of time and money. Highlight the living room, master bedroom, dining room, and kitchen, since people spend the most time in those spaces of the home. Ultimately, potential buyers want to walk into a home and imagine themselves living there.

Given the array of benefits to staging your home for sale, it should be seen as a near-necessity in today's East Bay real estate market. Consider the pointers below for better ROI when staging your Berkeley home for sale.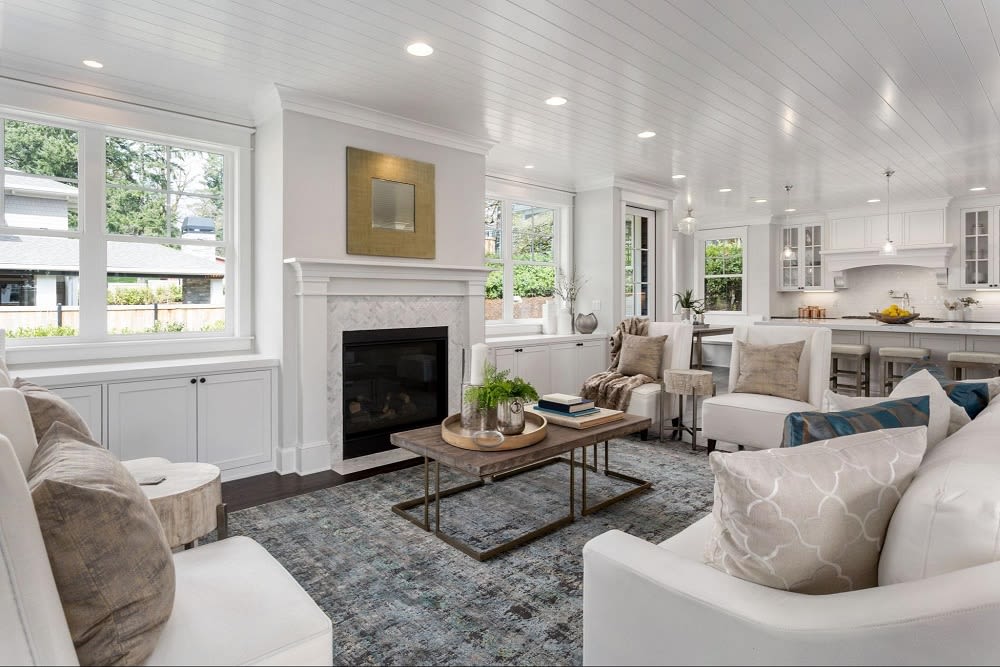 1. Curb appeal
First impressions are crucial. Your home's exterior is the first thing potential buyers will see when they pull up to your property. Make sure your yard is neat and has an inviting appearance and charm.
Give your wooden fence a fresh coat of paint or replace a run-down gate. Vinyl, composite, aluminum, and steel are great maintenance-free choices for gates.


Create an appealing garden area by placing planters along the walkway. A lush, manicured lawn is a must for creating an elegant landscape while planting perennials adds pops of color.


Painting your door and home exterior are excellent DIY tasks to boost your sale. A freshly painted door is an inexpensive way to make a clean and inviting entrance.


Though painting the entire home exterior can be costly, it adds value to your home and can increase the selling price. Neutral shades are favored by most. According to the 2017 Zillow Paint Color Analysis, houses painted greige (gray/beige) sold for $3,496 more than their tan or brown counterparts.


Just a few home furnishings can turn an unloved patio into a comfortable home space where potential buyers can envision themselves enjoying their morning coffee or post-work glass of wine. Sconces flanking the doorway or overhanging lights are simple additions that add appeal. Cozy, plush furniture, a coffee table, a porch swing, and an accent table are simple yet inviting inclusions.

2. De-personalize
A potential buyer will struggle to see their lives playing out in a home filled with someone else's things. Creating a blank canvas with minimal personal touches allows the buyer to envision their family living in the house. Remove all of your family photos, children's toys, bathroom toiletries, family heirlooms, and everything that makes it obvious the home belongs to someone else. Don't overlook the closets, the master bedroom, or any main rooms that may sway buyers' impression of a property.


3. Decorate
Brightly colored walls and vibrant mismatched furniture can be fun, but it's not for everyone. Since people have varying tastes, keeping paint and furniture colors neutral will be the best way to sell your property fast. Paint walls in gray, white, or cream. Use furniture with clean lines and muted colors throughout to attract buyers. Rent a storage unit to stow away any wacky, eccentric pieces. Though renting a separate storage unit costs money, it's a worthy venture to increase your home's appeal. Don't forget to add a few decorations, such as planters, vases, coffee table books, artwork, or any detail that makes the home feel comfy (but is also easily removable).
4. Repair
While extensive repairs can be handled post-inspection, minor repairs are inexpensive and give potential buyers an impression of a well-kept home. Spackling, caulking, and paint-touch ups are easy tasks that will improve your home's appearance and increase property value. Spending just a few dollars could mean a higher sale price when it comes time to choose an offer. Stop by your neighborhood home improvement store and spend a little time fixing up the property before you call a professional stager or deep cleaner.


5. Kitchen upgrades
A minor kitchen upgrade can yield stellar results for sellers. On average, upgrading your kitchen will result in 98.5% ROI, when you don't spend more than $15,000.
Replace old appliances with more efficient, newer models, including your stove, dishwasher, and microwave.
Replacing cabinetry can be pricey. Instead, apply a new coat of paint or gloss to existing cabinets. Refacing is an excellent alternative to replacing them.
New cabinet hardware with shiny metal finishes and clean, sharp lines are a great way to achieve a sleek look.
Install a new sink faucet.
Consider placing a few homey touches like a nice kettle on the stove and a new set of dish towels.

6. Find the right agent
The right Berkeley real estate agent will help make the home staging process feel smooth and productive. Your agent will be your sounding board on staging, as well as every other part of the real estate journey. For the biggest ROI, find an agent with extensive design experience who can give you an objective, informed perspective on the East Bay market around your listing.
Listing your Berkeley home for sale?
If you're seeking help staging your Berkeley home for sale—or renovating your home on a tight budget—contact Berkeley realtor Michael W. Robertson. Michael's team will provide you with local expertise, up-to-date market analysis, and outstanding customer service from pre-listing to closing, and will help your home look its best before hitting the market.